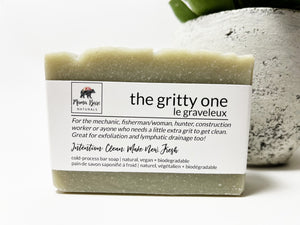 Mama Bare Naturals
The Gritty One
Regular price
$9.00
$0.00
Unit price
per
DESCRIPTION
The Gritty One has powerful cleaning abilities to get into tough to reach places, removing dirt, oil, grime and odor.  It's a great choice for anyone looking to exfoliate dead skin cells or use for lymphatic drainage! With a deep woody undertone, this soap will become a favorite for the mechanic, fisherman/woman, hunter, construction worker, or the like. Bathe in luxury with this soap that creates a creamy and sudsy lather that is rich and satisfying, leaving skin feeling moisturized and healthy.
Besides being hand-cut and natural, our soaps are LARGER than the competition. Weighing in at around 150 grams, compared to the average 100 grams, our bars are going to last you much longer reducing the amount you need to buy. Made with plant-based butters and oils specifically chosen for their moisturizing and skin healing properties. Can be used for hands and/or body.
No detergents, dyes or artificial fragrances | Handmade in Chilliwack, BC | All natural ingredients | Cold Processed | Luxurious | Scented with 100% natural pure essential oils | Vegan | Plastic Free
Why Cold-Processed: Most of today's soaps have natural glycerin removed, which is then sold and added to lotions marketed for people as a necessity after the skin is stripped of it's natural oils. Cold processed soaps are all glycerin soaps (the saponification process produces glycerin), and provide other natural oils for skin health. You get to cleanse while nurturing, hydrating and repairing the skin.
How It's Made: Cold processed soaps are made in a traditional method that produces a natural and gentle soap for your skin. We combine plant-based oils known for their healing capabilities and combine them with a lye water mixture. The oil and lye molecules combine to make something new, which is soap! We make all of our soaps with at least a 5% superfat content, which means that at least 5% or often more of the nourishing oils that we add are left in the soap to nourish your skin and there is 0% of lye left. The end result is a creamy, sudsy lather and a pure natural soap to cleanse and repair your skin whether you have normal, dry, oily, or sensitive skin. Also, our soaps are gentle enough to use with conditions such as eczema, psoriasis, acne or dermatitis.
INGREDIENTS
Cocos Nucifera (Coconut) Oil, Olea Europaea (Olive) Fruit Oil, Butyrospermum Parkii (Shea) Butter, Persea gratissima (Avocado) Butter, Helianthus Annuus (Sunflower) Seed Oil, Ricinus Communis (Castor) Seed Oil, Glycerin, Pumice, Glacier Clay (Sea Silt), Pinus Sylvestris (Pine) Leaf Oil, Abies Sibirica (Fir) Needle Oil, Cedrus Deodora (Cedarwood) Wood Oil, Amyris Balsamifera (Amyris) Bark Oil, Cupressus Sempervirens (Cypress) Oil, Styrax Benzoin (Benzoin) Resin Oil. 
HOW TO USE
Wet soap and create a lather with your hands or a shower pouf. Wash your body with the soap's lather and then rinse off with water.
CAUTION
Avoid contact with eyes, for external use only. Keep out of reach of children. If irritation occurs, discontinue use immediately.
---