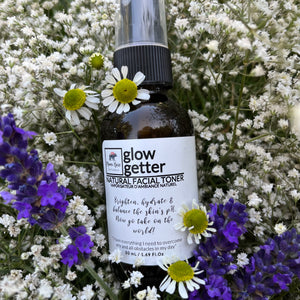 Mama Bare Naturals
Facial Toner
Regular price
$14.99
$0.00
Unit price
per
DESCRIPTION
A natural facial toner infused with geranium, lavender and chamomile essential oils specifically chosen for their skin tightening, soothing + anti-aging properties. Charged with rose quartz crystals for the ultimate gesture of love and beauty towards yourself.
Mantra: "I have everything I need to overcome any and all obstacles in my day"
Show your skin how much you love it! This facial toner is perfect to spray before adding any other creams, serums or make-up. The smell of rose, lavender and chamomile awakens the soul, while the many healing properties in the toner help to balance your skin's pH, tighten and hydrate, minimize the appearance of pores and create an "eternal glow".
Our facial toner's are handmade locally in small batches, providing the ultimate quality you desire. 

It is our mission to create the cleanest, yet most effective products for you and your family. Feel good about ditching the synthetic chemicals in your daily routine! 
Cruelty Free | Vegan | Eco-Friendly | Natural
50 mL / 1.69 Fl.Oz
INGREDIENTS
Hamamelis Virginiana (Witch Hazel) Water, Aloe Barbadensis (Aloe Vera) Leaf Juice, Aqua, Rosa Damascena (Rose) Floral Water, Chamaemelum Nobile (Roman Chamomile) Floral Water, Lavandula Angustifolia (Lavender) Floral Water, Ricinus Communis (Castor) Seed Oil, DL-Panthenol (Provitamin B5), Fucus Vesiculosus (Seaweed) Extract, Camellia Sinensis (Green Tea) Leaf Extract and Propanediol, Glycerin, Gluconolactone (and) Sodium Benzoate* (Geogard Ultra), Pelargonium Graveolens (Geranium) Essential Oil, Lavandula Angustifolia (Lavender) Essential Oil, Anthemis Nobilis (Chamomile) flower oil, rose quartz. *ECOCERT
Key Ingredients: 

Rose Quartz is the stone of unconditional love and romance. It is the stone associated with the heart chakra and the heart, which can open you up to all kinds of beauty. Not only does it promote love of others but love of the self. In skincare it promotes glowing skin while helping retain moisture.

Witch Hazel is a natural astringent that allows your tissues to contract, which may help to shrink pores. It helps clarify and balance your skin without drying it out. Witch hazel helps the skin retain moisture while balancing overly dry or overly oily skin types. It is also a natural anti-inflammatory. 

Aloe Vera is one of the best topical skin healers. It has undergone intense scientific studies proving its ability to heal skin conditions from common sunburns to radiation burns. It will help soothe, repair and regenerate many skin conditions. Aloe stimulates the production of hyaluronic acid, collagen and elastin fibres in the skin.

Rose Floral Water is a natural humectant (moisture locking and grabbing….aka helps to plump up the skin and reduce the appearance of wrinkles), smells divine and uplifts the mood. Topically, rose water balances the pH of the skin, hydrates dry skin, is an antiseptic, and fights injury due to aging and sun exposure. It's a wonderful anti-aging ingredient and is gentle enough to use daily. It is full of vitamins, flavonoids and antioxidants, while being anti-inflammatory, antibacterial (great for acne) and antimicrobial.

Castor Oil is rich in fatty acids, as well as antioxidants and has anti-inflammatory properties. High in Ricinoleic Acid, Oleic Acid, Linoleic Acid (Omega-6 Fatty Acid), α-Linolenic Acid (Alpha-Linolenic Acid - Omega-3 Fatty Acid), Stearic Acid, and Palmitic Acid. Almost 90% Ricinoleic Acid, Castor Oil helps reduce the appearance of wrinkles while also being anti-inflammatory and antibacterial. 

Geranium helps with all kinds of skin irritations and speeds up the healing of cuts and scrapes. It also helps reduce appearance of scars. It improves blood circulation, inflammation and is anti-bacterial. It smells similar to roses but is a more gentle, mild scent and not overpowering. 

Lavender promotes cell regeneration, treats acne, soothes skin, is antiseptic, antibacterial and anti-inflammatory. Its powerful antioxidants fight free radicals and pollutants found on the skin.

Chamomile alleviates redness of the skin caused by inflammation, making it a great addition to those struggling with rosacea, eczema and other skin conditions. Chamomile relieves inflammation by blocking signals in the body known as prostaglandins, which are responsible for inflammation. The flavonoids and phyto-chemicals in chamomile are known to fight free radicals and therefore speed up cell regeneration, and decrease fine lines, wrinkles and scars.
HOW TO USE
After washing, close eyes and spray face with toner. Gently blend with fingers or re-usable cotton ball to awaken, balance pH, hydrate + tighten skin and minimize pores. Apply after cleansing and before serum. 

CAUTION
EXTERNAL USE ONLY. Discontinue use if irritation occurs. Avoid direct contact with eyes and keep out of reach of children.
---